Air Conditioning Repair Contractor in Wisconsin Rapids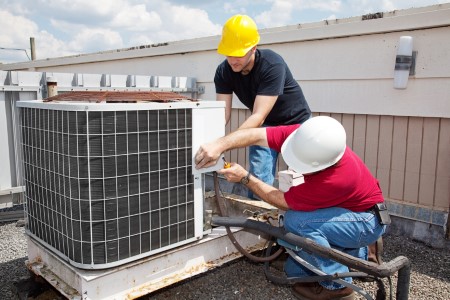 Stay cool and comfortable with our premium air conditioning systems and Wisconsin Rapids & Marshfield area air conditioner services. We carry the names you trust to beat the toughest heat spell. As an added bonus, your air conditioning unit will also remove the humidity from your indoor environment for an added degree of comfort.
Not sure if you should repair or replace? Well, consider this: if you're operating an inefficient system that breaks down a lot, it's likely that it's going to break down again. That means more expensive emergency service calls or possible damage to the other components of your heating and cooling system.
Also consider the ongoing cost factor. You could save up to 60% on your energy bills with new high-efficiency equipment. You see, even if your Wisconsin Rapids air conditioner is only a few years old, it could be terribly inefficient by today's energy efficiency standards. Installing a new, high-efficiency cooling system can actually pay for itself in energy savings within a relatively short time.
Cooling efficiency for your air conditioner is indicated by its SEER (Seasonal Energy Efficiency Ratio) rating, which tells you how efficiently your unit uses electricity. In general, the higher the SEER rating, the less electricity your unit will use to cool your home. The typical SEER rating of units made before 1992 is about 6.0. In 1992, the government established the minimum cooling efficiency standard for units installed in new homes at 10.0 SEER. High-efficiency units have a SEER of at least 12.0; the maximum available is about 17.
Air Conditioner Maintenance
Our Wisconsin Rapids Air Conditioning Repair Contractor Provides
air conditioning service
air conditioner repair
heating and air conditioning repair
air conditioning repairs
home air condition repair
air conditioning replacement
air conditioning systems
ac replacement
home air conditioning repair
ac and heating repair
ac repair
central air conditioning repair
We Provide Air Conditioning Repairs in the Following Areas
Wood County, WI | Wisconsin Rapids, WI | Port Edwards, WI | Nekoosa, WI | Saratoga, WI | Grand Rapids, WI | Rudolph, WI | Vesper, WI | Junction City, WI | Marshfield, WI | Spencer, WI | Hewitt, WI | Pittsville, WI | Auburndale, WI | Arpin, WI | Milladore, WI | Adams County, WI | Rome, WI | Adams, WI
Why Wisconsin Rapids Should Hire Us for Their Air Conditioning Repairs
Tri-City Services offers same day service on our Wisconsin Rapids HVAC services. With our services you recieve an upfront price on all services before we ever begin your project. Our Wisconsin Rapids heating and air conditioning services also come with some of the best warranties in the area!
Our phones are staffed 24/7 to help you in case of an emergency. A trained Wisconsin Rapids HVAC technician will be dispatched to your home to take care of all of your service problems. No matter the time of day, if you need HVAC services you can call on Tri-City Services!