Humidifier Contractor in Wisconsin Rapids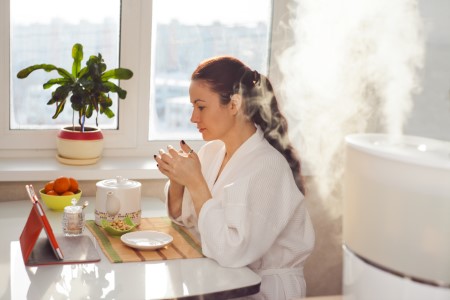 There's a science to managing comfort in your Wisconsin Rapids home, and our Wisconsin Rapids humidifier contractor knows it. Just locating and eliminating air leaks can cut energy bills up to 30%.
Besides lowering your utility bills, humidity control is very important to your health for a couple of reasons. Mold, which thrives in high humidity, is dormant or dies when the humidity is low. Dust mites also die when the humidity stays below 50%. But remember, the dust mites in your bed rely on you for their source of humidity, so always use mattress covers, pillow covers and box spring encasings.
On the other hand, below 30% relative humidity, people can be uncomfortable and can suffer from dry mucus membranes which can lead to nosebleeds and infections. Low humidity can aggravate the symptoms of asthma and high humidity at high temperatures can sometimes lead to heat exhaustion or heat stroke.
Our Wisconsin Rapids Humidifier Contractor Provides
air humidifier
air humidifiers
humidifier repairs
quality humidifiers
house humidifier
room humidifier
humidifier estimates
furnace humidifier
humidifiers
home humidifier
indoor air quality
humidifier installation
We Provide Humidifiers in the Following Areas
Wood County, WI | Wisconsin Rapids, WI | Port Edwards, WI | Nekoosa, WI | Saratoga, WI | Grand Rapids, WI | Rudolph, WI | Vesper, WI | Junction City, WI | Marshfield, WI | Spencer, WI | Hewitt, WI | Pittsville, WI | Auburndale, WI | Arpin, WI | Milladore, WI | Adams County, WI | Rome, WI | Adams, WI
Why Wisconsin Rapids Should Hire Us for Their Humidifiers
With our Wisconsin Rapids HVAC services we offer 24 hour emergency services! We have our phones staffed 24/7 to ensure that we're here when you need us. We're proud to offer same day service to the Wisconsin Rapids area.
From air conditioning repairs to heating systems, we offer some of the best warranties in Wisconsin Rapids. We also provide upfront pricing on our Wisconsin Rapids HVAC services. You will know the full cost of the service before we ever begin!