Wisconsin Rapids HVAC Contractor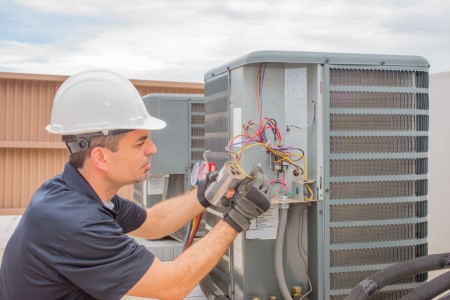 Central heat and air uses a primary heating appliance such as a furnace that is often located in an area such as a small closet, basement or garage. These systems deliver heat throughout the house through pumped warm air through a system of air ducts or by sending hot water or steam through pipes to room radiators. In newer homes, the system is usually built in with the home. The duct system may be set up with an air conditioner, heat pump, or furnace. There are also two types of systems including a forced air system and a gravity system. Gravity systems, however, do not provide air conditioning and can only provide heat. If your Wisconsin Rapids HVAC system includes an air conditioner, then the system is a forced-air system.
Air conditioners and heat pumps are forced air systems that share ductwork. The air conditioner runs on electricity and removes heat from air through refrigeration. The heat pump is capable of providing both heating and cooling. In the winter, the heat pump extracts the heat from outside air and delivers it into the home. In the summer it does the opposite. It extracts the cool air and pumps it into the home. These systems tend to be very economical and use only one duct system.
Tri-City Services - Wisconsin Rapids HVAC
With our Wisconsin Rapids HVAC services we offer 24 hour emergency services! We have our phones staffed 24/7 to ensure that we're here when you need us. We're proud to offer same day service to the Wisconsin Rapids area.
From air conditioning repairs to heating systems, we offer some of the best warranties in Wisconsin Rapids. We also provide upfront pricing on our Wisconsin Rapids HVAC services. You will know the full cost of the service before we ever begin!
Wisconsin Rapids or Marshfield area Furnace Repairs
Regardless if you need a tune-up or furnace repairs, Tri-City Services can help your Wisconsin Rapids home with all of your furnace needs. Like heat pumps, furnaces keep your Wisconsin Rapids home warm in the winter and serve as an important part of your air conditioning system in the summer. In a furnace, gas or oil is combusted in a burner and then heat produced from that reaction passes through a heat exchanger where it is transferred to the air distribution system. The ductwork throughout a home carries and disperses the conditioned air and the flue or vent pipe releases the byproducts, such as carbon dioxide and water vapor, outside the home.
new furnace
furnace brands
home furnace
furnace costs
furnace prices
propane furnace
furnace repair
furnaces
furnace cost
heating furnace
electric furnace
furnace installation
Wisconsin Rapids or Marshfield area Water Heaters
Water heaters are extremely important in any Wisconsin Rapids home – which is why homeowners should know exactly when to install a new one before the old unit decided to take its last breath. In fact, it might be best to time replacement during home remodeling to ensure that the new unit would be able to fit well with the overall design. However, considering the difference between past and present water heaters, it isn't surprising if most home owners are unsure about what to purchase. That being said, following are some tips on how to choose the best heaters for home improvement.
There are several types of Wisconsin Rapids water heaters being sold in the market today. These include tank less types, heat pump heaters or solar heaters. Decide on what type of power the heater would be running on although for better results, it might be best to choose a model capable of running on various power sources. On-demand heaters are also a good choice since they manage to conserve energy for the homeowner. Since there are so many types, it might be best to inquire sellers about the available ones, their features, drawbacks and cost.
Services We Provide in Wisconsin Rapids
preventative maintenance
heat pumps
water heaters
gas furnaces
boilers
duct cleaning
radiant floor heating
oil furnaces
furnace repairs
commercial refrigeration
air purification
air conditioning repairs
air conditioning installation
humidifiers air purification
Other Areas We Provide HVAC Services Near Wisconsin Rapids
Wood County, WI | Wisconsin Rapids, WI | Port Edwards, WI | Nekoosa, WI | Saratoga, WI | Grand Rapids, WI | Rudolph, WI | Vesper, WI | Junction City, WI | Marshfield, WI | Spencer, WI | Hewitt, WI | Pittsville, WI | Auburndale, WI | Arpin, WI | Milladore, WI | Adams County, WI | Rome, WI | Adams, WI