How Does Radiant Floor Heating Work?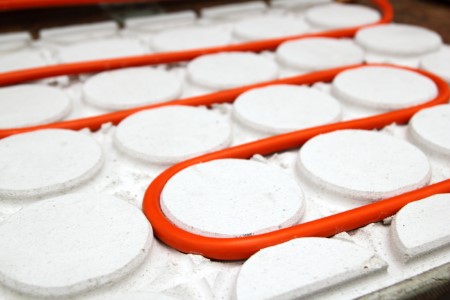 As a Hewitt homeowner, you should consider radiant floor heating as a potential way to heat your home during the winter months. Once your HVAC contractor installs the new heating system, you'll enjoy lower energy bills and a more comfortable home.
What Is Radiant Floor Heating?
Radiant floor heating in Hewitt involves thermal radiation from electric wiring or hot water tubes that are installed underneath the floor by an HVAC contractor. Heat emanates from the floor and warms surfaces and objects in the room although the air temperature usually stays constant. Heat diffuses from the floor up to the ceiling, pushing cold air upward. Radiant floor heating makes homes comfortable because these warm surfaces don't soak up a household's body heat. Forced-air heating systems usually turn off when they reach 70 degrees Fahrenheit, but radiant floor heating systems can warm a home to 85 degrees Fahrenheit. Although installing radiant floor heating in Hewitt has a high up-front cost, you can save money as the energy efficiency of your home increases.
Why Should You Consider Radiant Floor Heating?
Flexibility Bulky radiators and other heating equipment don't always allow you to arrange the furnishings in your home the way you want to. With radiant floor heating, you can design the house's interior any way you'd like without having to work around radiators, maximizing the space in your home. Additionally, radiant floor heating can be installed beneath any type of flooring, so your flooring options aren't restricted.
Simple Installation If you're worried about the installation of radiant floor heating, you shouldn't be. Your HVAC contractor can install the heating system relatively easily and quickly, and if you're adding radiant floor heating as part of a remodeling project, installation will be even easier.
Energy Efficiency A radiator isn't an ideal heating option because it can't diffuse heat evenly throughout a room, producing uncomfortable cold spots. Radiant floor heating, however, disperses heat evenly and thoroughly without overheating like a radiator can. Radiant floor heating also uses less energy than other heating options.
Health and Safety Radiant floor heating is safer than traditional radiators because it improves indoor air quality and won't overheat. Radiators have hot, exposed surfaces and sharp edges, and they circulate dust and lower oxygen levels.
If you think your Hewitt home and household could benefit from radiant floor heating, contact a reputable HVAC contractor like Tri-City Services, and schedule a radiant floor heating installation.